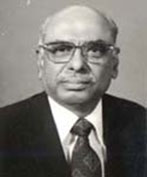 Late Mr. Indulal D. Bhuva was the founder of Indo-Nippon Chemical Co., Ltd., which was established in 1961. Mr. Bhuva was born in Chital in Gujarat State on 1st December 1911. He was educated at his native place and also at Rangoon. He started his career in import and export business.
He entered into chemical manufacturing activities in the year 1958 when there were very few industries in the country.
Through associations with one of the biggest Japanese trading house, M/s Nichimen & Co., he set up a plant in Bombay in the year 1961 to manufacture plasticizers with a capacity of 1000 MT/year with the technology of M/s Sekisui Chemical Co Ltd., Japan. Through his enterprising spirit, foresight, hard work and honesty, the industry expanded very fast and today Indo-Nippon Chemical Co., Ltd., has a plant of 35000 MT/year production capacity manufacturing a wide range of plasticizers.
Besides his industrial activities, he was also well associated with education, social and religious activities. He started a school at his native place, donated funds to hospital, boarding for students, temples, etc.